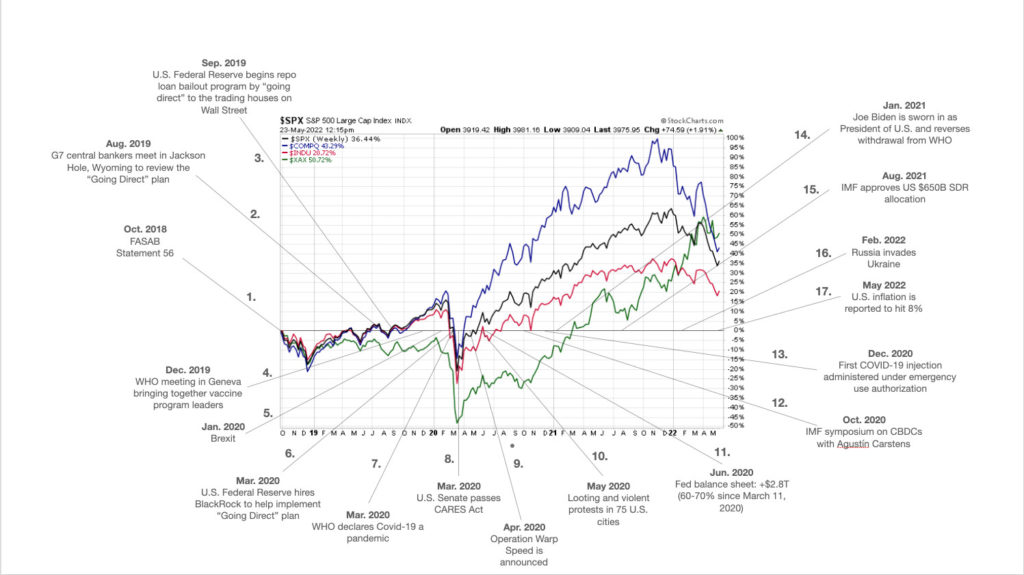 Adding the Fed balance sheet…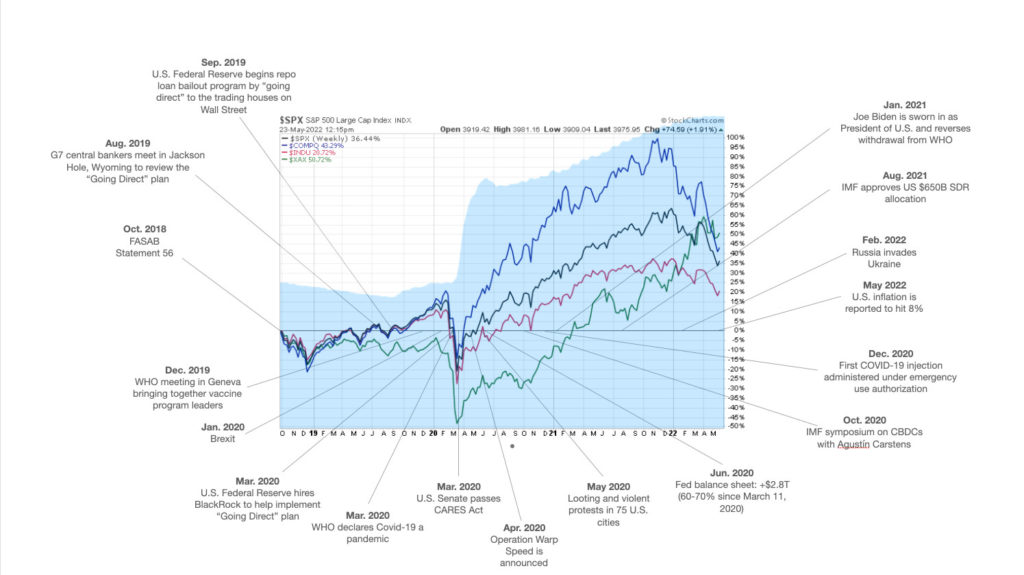 ---
Going Direct Reset Timeline:
2016
2016 (November) The World Economic forum publishes a tweet with a video to the effect of "It's 2030, you have no assets and you are happy" The video went viral in November 2020.
2018
2018 (October 4) Several months after beginning the promised FY 2018 DOD audit, the government accepts the recommendations of the Federal Accounting Standards Advisory Board (FASAB) and publishes final FASAB Statement 56. Since the Federal Reserve went operational in 1914, the U.S. dollar has lost 97% of its purchasing power. Since 1910, the U.S. national debt has grown from $2.6 billion to $22 trillion with unfunded liabilities for Social Security and health care benefits estimated at $240 trillion.
2019
2019 (May) The annual Bilderberg Meeting is held in Switzerland. The number-one topic is "a stable world order".
2019 (week of July 5) Bohemian Grove meeting takes place.
2019 (August) G7 central bankers meet in Jackson Hole, Wyoming to review the "Going Direct" plan by former central bankers of Switzerland, Canada, the U.S. and Israel who now work at BlackRock. BlackRock is an investment manager of $7 trillion in stock and bond funds retained soon thereafter by the Fed to manage some of its "Going Direct" portfolios. Mark Carney of the Bank of England gives an interview stating that the dollar reserve currency system cannot remain as-is.
2019 (September 17) The U.S. Federal Reserve begins a repo loan bailout program making hundreds of billions of dollars a week in loans by "going direct" to the trading houses on Wall Street.
2019 (September 19) The ID2020 Alliance—led by Microsoft, Accenture, IDEO, GAVI, and the Rockefeller Foundation and incorporated into the UN Sustainable Development Goals—hosts its annual summit in New York City. Among other goals, ID2020 aims to offer "a persistent digital identity from birth" using "cutting-edge infant biometric technologies" and microchip implants.
2019 (July 20) The G7 finance ministers agree to a Crypto Action Plan.
2019 (October) The BIS publishes the G7 Working Group on Stablecoins report, "Investigating the impact of global stablecoins.
2019 (October 18) The Bill & Melinda Gates Foundation, Johns Hopkins Center for Health Security, and World Economic Forum hold Event 201, a "pandemic tabletop exercise" simulating the outbreak of a novel coronavirus that becomes a pandemic.
2019 (October 25) The Pentagon awards a $10 billion JEDI cloud computing contract to Microsoft.
2019 (November) Following BRICS meeting, President Putin says, "The dollar enjoyed great trust around the world but for some reason it is being used as a political weapon, imposing restrictions. Many countries are now turning away from the dollar as a reserve currency. The U.S. dollar will collapse soon."
2019 (November) Denmark-based tech company BiChip cancels the launch of a microchip implant readable from a distance and connected to the Internet in the face of protests by Christian activists. BiChip has contracts to produce the microchip implants for the Danish government and U.S. Navy. A 2018 update to the implants allows wearers to store Ripple cryptocurrencies using Ripple's payment system.
2019 (November 14) Amazon, which manages the CIA and intelligence clouds, notifies the U.S. Court of Federal Claims of its intent to protest the award of the JEDI contract by DOD to Microsoft.
2019 (December) U.S. creates the United States Space Force to be the space operations service branch of the United States Armed Forces.
2019 (December 12) The Basel Committee invites comments on the design of a prudential treatment for crypto assets by March 13, 2020.
2019 (December) Verizon 5G rollout in several U.S. cities, including Los Angeles, goes into effect. The 5G rollout has begun and accelerates to support the "Going Direct" global reset, marked by competition between the U.S. and China over who controls the telecommunications hardware and AI access to data.
2019 (December) MIT researchers publish a study—funded by the Gates Foundation and expressly requested by Bill Gates—that establishes a proof of concept for "intradermal on-person vaccination record keeping." The study uses dissolvable microneedles to co-deliver vaccines and "near-infrared quantum dots" into the skin that encode information about vaccination status readable by modified smartphones. The senior author says the invisible "tattoos" could create "new possibilities for data storage, biosensing and vaccine applications."
2019 (December) A recorded two-day WHO meeting in Geneva brought together vaccine program leaders from around the world. Attendees emphasized that global vaccine programs and the pharmaceutical industry have no science to support the statement that vaccines are individually or collectively "safe and effective." What Vaccine Scientists Say Behind Closed Doors
2020
2020 (January 9) WHO announces mysterious Coronavirus-related pneumonia in Wuhan, China.
2020 (January 20) CDC says three U.S. airports will begin screening for Coronavirus.
2020 (January 21) CDC confirms first U.S. Coronavirus case. Chinese scientist confirms COVID-19 human transmission
2020 (January 24) The World Economic Forum meets in Davos and launches its Global Reset website to market the Going Direct plan to young people and non-financial sectors.
2020 (January 28) A Department of Justice press release announces the arrest of Harvard Chemistry and Chemical Biology Department Chair Charles Lieber, together with two Chinese nationals, on charges of lying about his involvement at the Wuhan University of Technology (WUT) in China. DOJ alleged that under the terms of Lieber's three-year Thousand Talents contract, Lieber was paid $50,000 USD per month, living expenses of up to 1,000,000 Chinese Yuan (approximately $158,000 USD at the time) and paid more than $1.5 million to establish a research lab at WUT. The aim of the Thousand Talents Program seeks to lure Chinese overseas talent and foreign experts to bring their knowledge and experience to China and reward individuals for stealing proprietary information, according to DOJ.
2020 (January 31) The United Kingdom withdraws from the European Union (thus protecting its global offshore haven system from EU regulators and disclosure requirements).
2020 (January-February) A rising number of CEO resignations permits corporate leaders to sell their stocks at or near the market high. Reports of selling by members of Congress who receive early briefings on COVID-19 circulate. Jeff Bezos of Amazon is reported to have sold $4 billion of Amazon stock.
2020 (February) The U.S. Navy awards a $7 billion cloud contract to Leidos. Lockheed Martin spun out its government IT division to Leidos after the 2015 fiscal year in which the Army reported $6.5 trillion in undocumentable adjustments. Leidos has large contracts in Antarctica.
2020 (February 7) The CIA begins the multibillion-dollar procurement process to update its cloud technology as part of the Commercial Cloud Enterprise (C2E) process.
2020 (March) The FCC authorizes SpaceX to begin rolling out up to one million ground antennas to connect Starlink satellites to end users.
2020 (March) SpaceX expresses an intent to compete for $16 billion in government subsidies for satellite Internet in rural areas.
2020 (March) Oil prices crash more than 20%, dramatically cutting revenues to Russia, Brazil, and other countries in the "de-dollarization" group. A major meltdown in the $20 trillion U.S. Treasury market begins.
2020 (March) The U.S. Federal Reserve hires BlackRock to help it implement aspects of Going Direct Reset, including the purchase of mortgage- backed securities, corporate bond purchases and bond ETFs.
2020 (March 9) Arthur Firstenberg republishes The Invisible Rainbow: A History of Electricity and Life (originally published in 2017) documenting the significant increases in disease and death resulting from the progressive adoption of electricity and increases in EMF radiation. The book raises profound questions regarding the potential impact of 5G technology on the human race.
2020 (March 11) The WHO declares Covid-19 a pandemic. This means that the waiver of liability under the U.S. PREP Act of 2005 applies.
2020 (March 12) The Pentagon seeks court permission to "reconsider certain aspects" of the decision to award the JEDI cloud computing contract to Microsoft.
2020 (March 13) Trump declares COVID-19 a National Emergency, unlocking billions of dollars in federal funding and issues a travel ban on non-Americans who visited 26 European countries within 14 days of coming to the United States. People traveling from the United Kingdom and the Republic of Ireland are exempt. The resulting lockdowns are estimated to destroy 1MM small businesses in the US.
2020 (March 17) CMS temporarily expands use of telehealth and President Trump asks Congress to expedite emergency relief checks to Americans as part of an economic stimulus package. The University of Minnesota launches a clinical trial to investigate whether hydroxychloroquine can prevent an individual exposed to COVID-19 from becoming ill or reduce the severity of the infection.
2020 (March 18) Bill Gates holds an "Ask Me Anything" Q&A on Reddit one week after stepping down from the boards of Microsoft and Berkshire Hathaway. Gates calls for a national coronavirus tracking system, including "digital certificates" that show who has (and has not) been vaccinated.
2020 (March 19) California becomes the first state to issue statewide stay-at-home order. Many other states follow suit.
2020 (March 26) The U.S. Senate passes the CARES Act, the largest economic recovery package in history. The bipartisan legislation provides direct payments to Americans and expansions in unemployment insurance.
2020 (March 30) The FDA issues an emergency use authorization for (EUA) hydroxychloroquine.
2020 (April) The IRS issued the first Economic Impact Payments of $1,200 for people who were eligible.
2020 (April 15) Operation Warp Speed is announced as a U.S. public-private effort to accelerate the funding and launch of Covid-19 injections under U.S. military leadership and operations with $10B of funding. A leading expert on brain-machine interface, a former head of research from Glaxo Smith Kline is appointed to run it.
2020 (April 15) The IMF warns against "contraction of the global economy."
2020 (April 16) After Trump briefly entertains the idea of reopening the US economy in time for Easter Sunday, the White House releases broad guidelines for how people could return to work, to church, and to restaurants and other venues. The plan outlines the concept of "gating criteria," which call for states or metropolitan areas to achieve benchmarks in reducing COVID-19 cases or deaths before taking the next step toward reopening.
2020 (April 24) The Congressional Budget Office revises its earlier January estimate of a $1 trillion federal deficit in fiscal 2020 to $3.7 trillion. A later report by Kiplinger states that U.S. state government deficits will reach $500 billion by the end of fiscal 2021. McKinsey Global Institute predicts that global government deficits could be a worldwide $10 trillion in 2020 and there could be a cumulative shortfall of up to $30 trillion by 2023.
2020 (April 29) NIH trial shows early promise for remdesivir, notwithstanding evidence that it causes kidney damage. Remdesivir, which must be administered intravenously, together with the use of ventilators, later becomes part of hospital protocols for treating cases of COVID-19.
2020 (May) During May 2020, year-over-year growth in the dollar money supply is at 29.8%, up from April's rate of 21.3% and up from May 2019's rate of 2.15%.
2020 (May) Moncef Slaoui is named Operation Warp Speed chief adviser. Slaoui—a vaccine researcher and, formerly, Chairman of Global Research and Development and Chairman of Global Vaccines at GlaxoSmithKline—is described by the Financial Times in 2012 as an expert on brain-machine interface and bioelectronics. General Gustave F. Perna—Commanding General, Army Materiel Command—is named Operation Warp Speed chief operating officer. The project has a budget of $10 billion, with additional funds allocated through the Biomedical Advanced Research and Development Authority (BARDA) at the U.S. Department of Health and Human Services (HHS).
2020 (May 13) WHO announces that the virus "may never go away."
2020 (May 20) Dr. Mark Skidmore provides a major update to his 2017 Missing Money Report regarding $21 trillion of undocumentable adjustments in DOD and HUD accounts, including $6.5 trillion in fiscal 2015. This update includes a review of redemptions in the U.S. Treasury market, indicating a much higher volume of redemptions than should be necessary to manage officially outstanding debt and raising questions regarding total outstanding debt.
2020 (May 31) Looting and violent protests take place in 75 U.S. cities. Of these, 33 are cities with a Federal Reserve Board bank or branch. A review of Minneapolis small business and property damage indicates possible redevelopment patterns in local Opportunity Zones. Are cities being cleared for "smart city" redevelopment? Will this development be financed by the Fed's new bond-buying portfolios managed by BlackRock pursuant to the "Going Direct" approved plan?
2020 (June 2) Bank of America pledges $1 billion to address racial and economic inequality (now that looting has lowered the price of real estate).
2020 (June 4) John Titus reports on The Solari Report Money & Markets that the Fed has expanded its balance sheet by $2.8 trillion, or 60%-70%, since March 11, 2020. A similar size expansion took place in 2008-2012. The reported increase is primarily in Treasury bonds and mortgage-backed securities, but the Fed has authorized portfolios to buy corporate bonds and municipal bonds and to finance bank small-business loans. Some portfolio operations are outsourced to BlackRock. Some are backstopped by the Exchange Stabilization Fund.
2020 (June 4) On the same day, The New England Journal of Medicine and The Lancet both retract 2 studies on the use of hydroxychloroquine in COVID-19 after the authors said they could not vouch for the data used.
2020 (June 15) The FDA withdraws the EUA for hydroxychloroquine except for patients in clinical trials in the wake of reports of heart rhythm problems among some patients.
2020 (June 18) The WHO announces it will stop testing hydroxychloroquine as a treatment for COVID-19 because the data from the Solidarity Trial show the drug did not reduce mortality.
2020 (June 20) The NIH announces it is halting a clinical trial examining the safety and effectiveness of hydroxychloroquine as a treatment for COVID-19. The study indicates that the treatment does no harm, but also provides no benefit.
2020 (June 29) Gilead Sciences sets a price for remdesivir, which it says can shorten hospitalization stays for patients with COVID-19, at $520 a vial. With a treatment course of 6 vials, the typical treatment course will be $3,120 per patient for people covered with private insurance, as opposed to a $10/dose charge for hydroxychloroquine. Critics of the price point are quick to point out that taxpayers funded the COVID-19 remdesivir trial through the NIAID
2020 (June 30) The Bank for International Settlements (BIS) announces it will open Innovation Hub centers in collaboration with the Bank of Canada (Toronto), the Bank of England (London), the ECB (Frankfurt and Paris), and four Nordic Central Banks in Stockholm. It will also form a strategic partnership with the Federal Reserve System (New York). The BIS has previously established Innovation Hubs in Singapore, Hong Kong, and Switzerland.
2020 (June-July) GAVI, the Vaccine Alliance, reports that Mastercard's "Wellness Pass" program will be adapted to the pandemic response and integrated with Trust Stamp's biometric identity platform in a test on low-income Africans to prototype vaccinations integrated with biometric identity and payment systems. (See "Africa to Become Testing Ground for 'Trust Stamp' Vaccine Record and Payment System" by Raul Diego, Mint Press News, July 10, 2020.)
2020 (July 2) Several states, including California and Indiana, postpone or reverse plans to reopen their economies as the United States records 50,000 new cases of COVID-19—the largest one-day spike since the pandemic's onset. New Mexico also extends the state's emergency public health order through July 15 and implements a $100 fine for those not adhering to required mask usage.
2020 (July 7) The same day that the United States reports 3 million COVID-19 infections, the nation begins its withdrawal from WHO, citing its response to the global pandemic. The Trump Administration notifies the United Nations of its decision, which would not take effect until 2021 and could be reversed by President-elect Joe Biden.
2020 (July 15) An announcement mandates that all hospitals must bypass the CDC and send COVID-19–related information to a central database run by HHS Protect. Previously, data were sent to the CDC's National Healthcare Safety Network site. Following the change, questions are raised regarding the future of COVID-19 data transparency and politicization.
2020 (mid-July) Bohemian Grove meeting takes place.
2020 (July 16) Carlyle Group announces it is seeking to raise $2 billion for an America's Growth Equity Fund dedicated to mid-size private equity deals in North America, "according to people with knowledge of the matter" (Bloomberg). Jerome Powell, Chairman of the Federal Reserve, is considered to have made over $100MM as a partner at Carlyle during the explosive investment in globalization that occurred as money began going missing from U.S. accounts.
2020 (July 22) U.S. regulators (Office of the Comptroller of the Currency or OCC) grant authority to U.S. banks to hold and offer cryptocurrencies.
2020 (July 22) HHS and the Department of Defense (DOD) strike partnershisp with Pfizer and BioNTech for a December delivery of 100 million doses of their COVID-19 vaccine candidate, BNT162, in a deal that could expand to 600 million doses if the vaccine were to receive approval or an EUA from the FDA, and even then only if phase 3 clinical trial results confirm that the vaccine is safe and effective.
2020 (August 11) Despite still waiting on final data, the Trump Administration agrees to pay $1.5 billion to Moderna for 100 million doses of its vaccine candidate, mRNA-1273, or an average per-dose price of $15. The vaccine is still under investigation in the joint phase 3 COVE trial Moderna is conducting with the NIAID.
2020 (October) A symposium sponsored by the International Monetary Fund (IMF) on Central bank digital currencies (CBDCs) attended by Federal Reserve Chairman Jerome Powell and BIS General Manager Augustín Carstens, among others, takes place. Carstens made it clear—and was quite enthusiastic about–-the fact that with CBDCs central banks will have the power to decline individual transactions.
2020 (November 3) U.S. election in which Joe Biden wins the Presidency.
2020 (December) The IRS starts issuing the second round of Economic Impact checks in the amount of $600.
2020 (December 14) The first Pfizer-BioNTech COVID-19 "vaccine" was administered under emergency use authorization (EUA) to a nurse in New York. Inoculations were made available free to the public starting with first responders and then according to age, starting with those over 70 years old.
2021
2021 (January 20) Inauguration Day in the U.S. Joe Biden is sworn in as President resulting, among other things, in the reversal of President Trump's decision to withdraw the U.S. from the WHO.
2021 (March) The IRS issues the third round of Economic Impact checks in the amount of $1,400.
2021 (March 31) Statement by Paul Munter, Acting Chief Accountant of SEC. Fnancial Reporting and Auditing Considerations of Companies Merging with SPACs
2021 (April 12) Issuance of SEC Staff Statement on Accounting and Reporting Considerations for Warrants Issued by Special Purpose Acquisition Companies ("SPACs") setting forth circumstances under which SPAC warrants are treated as liabilities instead of equity. Staff Statement on Accounting and Reporting Considerations for Warrants Issued by Special Purpose Acquisition Companies ("SPACs")
2021 (June 5) Finance ministers of the G7 (Canada, France, Germany, Italy, Japan, the United Kingdom and the United States) announces a "historic agreement" on international tax policies setting a minimum 15 percent tax rate for multinational companies.
2021 (July 6) DOD cancels $10B JEDI cloud contract amid ongoing protests by Oracle and Amazon.
2021 (August 2) IMF Governors approve a historic US $650B SDR allocation of special drawing rights "to boost global liquidity."
2021 (August 23) The FDA approves the first COVID-19 vaccine, even though the approved drug is not manufactured and doses manufactured under the EUA continue to be used. The vaccine is known as the Pfizer-BioNTech COVID-19 vaccine or "Comirnaty." By approving one form and actually using another, the FDA enables manufacturers to enjoy liability protection while justifying vaccine mandates.
2021 (September) The administration of a COVID-19 home treatment in the Uttar Pradesh district of India, where fewer than 5% were reported to be fully vaccinated, meets with great success. The home treatment is revealed to consist of paracetamol tablets [Tylenol], vitamin C, multivitamin, zinc, vitamin D3, ivermectin 12 mg [quantity #10 tablets] and doxycycline 100 mg [quantity #10 tablets].
2021 (November 26) The Real Anthony Fauci by Robert F. Kennedy is published and it quickly hits the New York Times best-seller list despite no review of the book by the New York Times or any other major member of the mainstream media.
2021 (December 3) Professor Mark Skidmore from Michigan State University, in collaboration with Doctors for Covid Ethics, begins the process of administering an online survey to learn more about the health experiences of people during the Covid-19 crisis and specifically for the purpose of estimating how many Americans died of and were seriously injured by COVID-19 inoculations.
2021 (December 7) G7 finance ministers support regulating cryptocurrencies. There is strong support across the G7 on the need to regulate digital currencies. Ministers and Governors reiterated support for the G7 joint statement on digital payments issued in October.
2021 (December 21) Harvard Professor Charles Lieber is found guilty of concealing his affiliation with the Wuhan University of Technology and his participation in China's Thousand Talents Program.
2022
2022 (January 13) The U.S. Supreme Court published landmark rulings regarding the legality of COVID-19 vaccine mandates issued by two federal agencies. In NFIB v. OSHA, the Court stayed the enforcement of a rule—issued by the Occupational Safety and Health Administration (OSHA) that imposed a vaccine-or-test mandate for employees in companies with more than 100 workers. The Court found that the parties challenging the rule were likely to ultimately succeed in having it struck down and it thus prevented the rule from going into effect while litigation over the rule continued.In Biden v. Missouri, the Court allowed a rule mandating COVID-19 vaccination (absent a medical or religious exemption) for all health care workers in institutions that receive federal funding for patients enrolled in Medicare or Medicaid issued HHS) to proceed, finding that the rule was likely to survive litigation challenging its validity.
2022 (January 20) The Federal Reserve Board releases a discussion paper that examines the pros and cons of a potential U.S. central bank digital currency.
2022 (February 24) Russia invades Ukraine.
2022 (February 26) A large coalition of states, including the EU, U.S., Canada, and the UK, among others, agreed to ban select Russian banks from the Society for Worldwide Interbank Financial Telecommunications (SWIFT) international payment messaging.
2022 (March) The Skidmore survey results are released in the form of a working paper on Skidmore's Lighthouse Economics website. There were 3,000 completed surveys with thirty-five percent of the respondents reporting that they knew at least one person who had experienced a significant health issue from a COVID-19 illness. About 24% knew someone who experienced a significant health issue from inoculation. Based upon the survey results, Skidmore estimates indicate 250,000-300,000 deaths in the United States may have resulted from COVID-19 injections.
2022 (March 9) President Biden issues Executive Order on Ensuring Responsible Development of Digital  Assets. NEC Director Brian Deese in an accompanying statement says the E.O. is a comprehensive federal digital assets strategy for the US that will help position it "to keep playing a leading role in the innovation and governance of the digital assets ecosystem at home and abroad, in a way that protects consumers, is consistent with our democratic values and advances U.S. global competitiveness."
2022 (March 30) SEC proposes Rules to Enhance Disclosure and Investor Protection Relating to Special Purpose Acquisition Companies, Shell Companies, and Projections (SEC Rel. 2022-56), which would impose additional disclosure and other requirements upon issuers of SPACs and their target companies. In a National Review article, attorneys from the law firm of Prokauer Rose said that it did not expect final rules to be adopted until the fourth quarter of 2022 at the earliest, due to their length, complexity and contentiousness. It also predicted that the final rules might be subject to legal challenge.
2022 (April) Michigan University Prof. Mark Skidmore releases a working paper on his Lighthouse Economics website concluding that countries with greater income, less dense and greater elderly populations, fewer hospital beds, and more freedom experienced greater fatalities from COVID-19 and that travel restrictions and use of hydroxychloroquine reduced deaths. However, there was little evidence that lockdowns reduced fatalities,and though use of PCR testing resulted in more recorded infections, it was unassociated with fatalities.
2022 (May) U.S. inflation is reported to have hit 8%. Goldman Sachs reports that there is a high likelihood of a recession.
---
Additional Resources:
Attendees List WEF Meeting Jackson Hole Wyoming